Can you name that one-hit-wonder song?
Anyhow, that's what I've been humming the last few days. David left today with Alex and Allan and cardi brother Tim, headed home to Kentucky: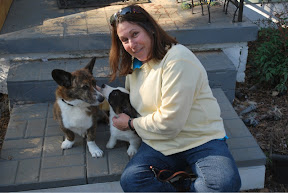 And tonight I came home and faced my new reality:
No more flying saucer bowl. Just my little pack:
So now we settle into our routines. With the exception of some scary days in December, I can definitely say that my first foray into being a breeder was less work and more fun than I ever could have imagined. It was such a gift to watch my girl Scout be such a good mama after that scary start. I am so happy that seven happy, healthy pups are out there with their wonderful families, and that one sweet girl is chewing on Spencer's head at my feet as I type this.